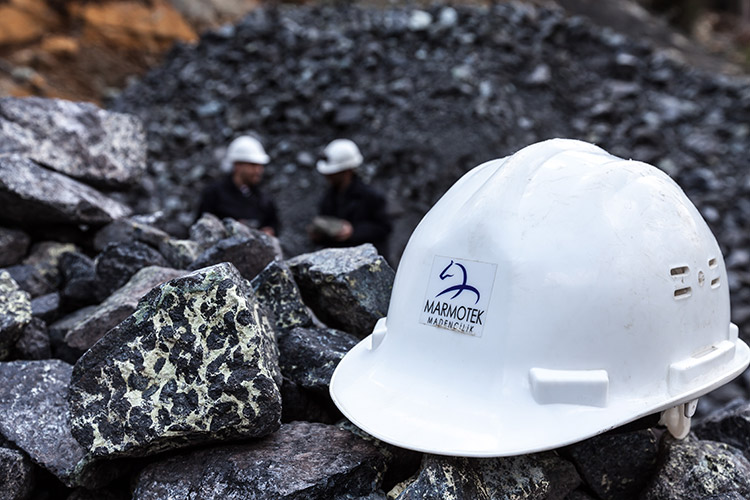 Our company was founded in 1986 in Ankara, with the title "Çopuroğlu Mühendislik Ltd. Şti.". Its title was changed to "MARMOTEK MADENCİLİK SANAYİ VE TİCARET A.Ş." in 2013.
Our company continues its search and production activities in its licensed fields below; Manganese in Kayseri and Kastamonu, chrome in Denizli, chrome and magnesite in Eskişehir.
Our purpose is to extract our mines, which are found scarce in nature, from underground and utilize them for the good of economy and humanity, by way of combining the advantages provided by modern technology and the science of engineering. For this reason, we have been implementing sensible production processes and developing production and marketing policies, aiming to effectively and productively extract the mine reserves we detect without wasting them, and properly present them to the world market.
With understanding of management, which is based on respect against nature, humanity and our personnel, we prioritize the values of work safety, in-house training and quality standards, while acknowledging as our first principle, being a consistent, honest and reliable company.
We have been working non-stop in order to convey our technical capacity and knowledge to younger generations, and to direct new generations with the initial excitement. In a sector with high-level competition, we believe in the importance of production and R&D works and beside, the importance of continuous investment and widening of enlarging of business fields in our country, while implementing our mid-term and long-term investment plans. We are working determinedly in order to determine new reserves of metallic mines in our country's geography and processing these reserves with utmost productivity and in the most correct way, therefore to contribute to the development of our country's economy. For this very reason, we have been taking firm steps forward with the idea "TODAY WE HAVE TO WORK HARDER THAN YESTERDAY", as the ever-growing MARMOTEK FAMILY.